Apr '12: GYANOTSAV
A memorable 'Gyanotsav' in Mahabaleshwar was the perfect welcome for incoming committees, celebrating not only wisdom but also new beginnings. The beautiful unveiling of the theme for the coming year, "Be a Friend" was truly motivating. We all learnt the true meaning of being a friend, which is not to overrule but to walk together. A comfortable stay, sumptuous appetizing meals, informative business meet and the fellowship with artists Amit and Kavita belting soulful melodies was the perfect finish to a fabulous training. Mita Sheth, Nimisha Mirani, Sonal Punatar and Hemal Maskai attended this 2 day training session.
1st Jul '12: INSTALLATION
We had our Installation on 1st July 2012 at the Amadeus, NCPA, Nariman Point. The chief guest for the event was Past IIW Pres Dr Pallavi Shah and guest of honor was Rotary Bombay Bayview Pres Rtn Pradip Kabra. The event which was attended by the district dignitaries made it even more special. We had 10 members from the District attending.(District ISO Falguni, PAP Rakshaben, PNR Arunaji and 6 PDC's).
We welcomed and inducted 7 new members on that day. The new team is all set to embrace the new year and carry the baton forward.
15th Jul '12: MOVIE TIME
In the Essence of Inner Wheel Friendship and Fun Fellowship we watched the movie Cocktail at the PVR on 15 July 2012 with fellow Inner Wheel Members, Spouses and their Family reiterated the theme in us once again "Be A Friend".
3rd Aug '12: GBM AND BE A FRIEND TO THE ENVIRONMENT
We had our 1st General Body Meeting at Bombay Gymkhana. We welcomed and inducted 11 new members. It was followed by a talk by Mana Chatterjee of Mumbai Goes Green on how we could "Be a Friend" to the Environment. We all agreed to be the change that we seek and promise to give our future generations breathable air, drinkable water, and a 'Green Mumbai'.
6th Sept '12: ZONE 1 CLUBS MEET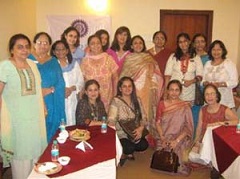 Our club hosted ZONE 1 Clubs get together to meet Dist 301 ISO Renu Gupta and other visiting fellow inner wheel members. Dist ISO Falguni Mehta, Zonal Coordinator Sonu Punjabi and Presidents and ISO's of Zone 1 Clubs attended it.
27th Sep '12: DISTRICT SEMINAR on PAIN MANAGEMENT
A seminar on pain management was held at Leelavati Hospital by the District. A panel of doctors conducted this very informative session which was attended by President Mita, Secretary Vinita and Treasurer Nimisha.
Sep '12: GBM AND ZUMBA FELLOWSHIP
We had our General Body Meeting at Bombay Gymkhana once again. It was followed by a Zumba class conducted by a renowned Zumba instructor Jignya Johri. All the members thoroughly enjoyed and participated in the 45 min Zumba sessions.
Sep '12: GANPATI PANDAL
Our Beloved Ganesha at the Khari Bawdi Bal Gopal Mitra Mandal near Mahalaxmi Mandir Mumbai inspired us to go green this year !!! In association with the above Sarvajanik Ganesh Mandal our Club initiated the "Clean Mumbai Green Mumbai Campaign" through No Plastic and Eco Friendly Practices. With a lot of effort from the Pandal members the place was kept free of plastic at almost all times and In return we got great clean Pandal for Darshan at all times !!! There was an Eco friendly Mahapuja Arti organised on the 28th September 2012 and ArtiThali Decorations were made using Eco friendly products and material. District ISO Falguni Mehta graced this occassion along with our members and she judged the ArtiThali decorations. The whole experience was wonderful with loads of blessings from our very beloved Lord Ganesha !!!
10th Oct '12: DISTRICT RALLY
The District Rally ,truly a colourful and spectacular event. The BAYVIEW STARS at the rally were Sonia, Preyal, Neha, and Rupali for fashion show, Meghna and Jigna for the dance and Krishna, Sonal Mehta and Anuja for the ISO competitions.Our Zone was adjudged the best for the fashion show.
Oct '12: GBM + OCV
We had our OCV with lunch. District Chairman Amita Timbadia was impressed with our accomplishments, not only with the wide variety of projects that we had successfully executed but also with our way of functioning. We handed over a cheque of Rs. 3.15 lacs towards the district toilet blocks project and also released our 1st quarterly bulletin.
Nov '12: FRIENDLY THROWBALL MATCH
We had a friendly Throwball match between the Rotarians and us at Jadhavgadh, Rotary picnic, And we won!
Dec '12: GBM AND SCAVENGER HUNT
We had a fun filled Scavenger Hunt for members and their families.There was whole-hearted participation from members, their spouses and children; everyone spent quality time together and bonded wonderfully over a delightful lunch. A total of 17 cars participated, solving 10 clues, 3 photo challenges and 6 scavenger items. A big thanks to IW member Nandita Chokshi for her fantastic planning!
3rd Jan '13: DISTRICT CONFERENCE
The District Conference was held at J.W.Marriot. President Mita, Secretary Vinita, Treasurer Nimisha , ISO Sonia and CC Hemal attended this extremely well organised event. Association President Sarita Lunani spoke of her exciting journey with Inner Wheel Club. Sonal Mehta's entry came in 3rd in the ISO Competition and Nimisha and Sonia received appreciation certificates for their entries (in essay and poem writing respectively) for the ISO competitions of District 307. Congratulations to our talented office bearers!
Bombay Bayview received a special prize for the enthusiasm shown in registering first at the District Conference. Our Club's Tata project, dance classes at Shraddha, eco-friendly Ganpati project and Prayaas were mentioned in the presentation on activities done by the various clubs of Distict 314.
12th/13th Jan '13: GBM AND OVERNIGHT PICNIC
Girls just wanna have fun!!! And that's exactly what we did. The minute the bus departed from breach candy, The PARTY started. After checking in we had lunch and thereafter the GBM. At the poolside, the hot pizzas before the sporty games were delicious. The arrival of mosquitoes made us shift to the Conference room. Like children we ran around the hall screaming and cheering our teams and made quite a mess. The backdrop for photographs at the FLUORESCENT COFFEE night was a super hit. All enjoyed the amazing mocktails whipped up by the bartender, dancing and chatting away.
A big thank you to Smeeta Jhunjhunwala for getting a fab hotel at an attractive rate, organising and planning the food, music and above all the bartender. Thanks to Reepa, Smeeta and Sonia for making us play superb games which ensured that we did not miss our cardio session even on the holiday. Reepa, Smeeta and Sonal Mehta, thank you for creating the beautiful wall for a back drop. Mamta, thanks for capturing special moments of the trip.
We also visited our organic garden project at Naunihal and Narayani Dham temple. All in all, it was one memorable trip and really missed those who were not able to come.
1st to 3rd Feb '13: 13TH TRIENNIAL CONFERENCE (Hyderabad)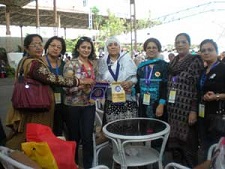 The 13th Triennial Conference at Hyderabad on 1st to 3rd February 2013 was attended by 4 members from our Club.Members exchanged greetings and flags with many clubs from India, Germany, Nigeria and Bangladesh.The All India Association souvenir featured our Organic Kitchen garden project as the most innovative project from our district 314 comprising of 64 clubs.
8th Feb '13: GBM AND COOKING DEMONSTRATION BY ASHA KHATAU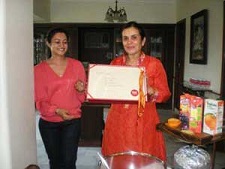 Learning how to whip up a quick Mousse or make an attractive dip bowl with BrunPav was great fun yesterday. Got insights about the quick tricks of cooking smart. Finally, enjoying the yummy dishes laid out by Ashaji.
A big thank you to Ex Com Sejal Shah for making this happen.
20th Feb '13: ZONE 1 FELLOWSHIP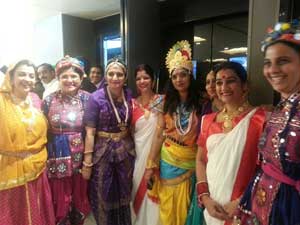 The Zone 1 fellowship hosted by us along with the other Clubs of Zone 1 was as colourful as its theme HOLI. We participated in the dances. Elegant and beautiful Bengali dancers - Minu and Neha ; Handsome Gopas - Manisha and Reepa ; Beautiful Gopi - Hemangi and charming Radha Krishna - Jigna and Sheetal. Our very own member Preyal was the judge for the CC competition at the event. She charmed everybody with her interesting talk on colour trends. Vinita along with members from other clubs was one of the Masters of Ceremony for the event.
8th Mar '13: GBM and TRYST FELLOWSHIP
We celebrated Womens Day on 8th March, 2013 at Tryst along with IWC of Hanging Garden. Modelling, Belly dancing, Makeover with make up tips, eating and chatting were on the agenda ! It was a soooper fun, packed afternoon lingering into the evening.
31st Mar '13: CHARTER DAY & WEBSITE LAUNCH
We celebrated our Charter Day at the Cheval, Kala Ghoda, with the launch of our website at the hands of District Chairman Amita Timbadia. Our Member Poonam Mashru single handedly designed this wonderful website and gave those present a tour of all the pages. Our Rotary Club Charter President Rtn. Jayesh Vidhani addressed the gathering and IWC members Tejal Damani, Meghna Sanghvi, Hemangi Shah, Rupali Samant and Manisha Shah shared their experiences as IW members. District dignitaries ESO Dr Kanak, ISO Falguni and Zonal Coordinator Sonu graced the event.
Members and their spouses then let their hair down with some live music and singing. This Charter Day was a fun filled evening, and an apt occasion to remember all that we've done and enjoyed. A Charter Day Commemorative stamp which mentions our website was released to mark the special occasion
12th Apr '13: GBM and IMI WORKSHOP
Multiple Intelligences is something we are all born with. We were given insights into this wonderful and novel avenue of self development by the Institute of Multiple Intelligence. Their mission is to help you discover your innate intelligence, develop your inborn potentials. After an extremely informative and interesting session, all members present were invited to get their biometric evaluations.
Jun '13: YEAR END REPORT and AGM
IWCBB officially closed the year 2012-2013 with office bearers presenting their year-end reports in the AGM held at Shalimar Hotel.
Jun '13: SHUKRIYA - YEAR END PARTY, BOLLYWOOD STYLE!
The perfect finish to a wonderfully successful year, Shukriya was a farewell bash hosted by President Mita's spouse, Ketan Sheth. Adopting the Bollywood award night style, every project of the year was given a Bollywood hit movie's title. A filmi thanksgiving speech by outgoing president Mita Sheth was followed by a night of revelry and high spirits, a reflection of the camaraderie cultivated and the friendships fostered during this wonderful year!