10th July 2017: Tree Plantation @ Inner Wheel Forest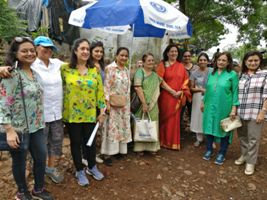 We made a great start to our 7th year with the Tree Plantation Project, by planting 200 trees and contributing Rs. 1,00,000/- to the District's Inner Wheel Forest Project in Kandivali East.
This year's planting was inaugurated by our Association President, Patricia Hilton, along with our 314 District Chairman, Dr. Madhavi Pandya. Members in attendance were PP Mita Sheth, PP Rajni Barasia and President Mohini Sharma Mane.
13th July 2017: Toilet Blocks at Dhamole Village
Today we completed our second project of the year, the construction of 40 toilet blocks at Kharghar's Dhamole Village. This project was inaugurated by District Chairman Dr. Madhavi Pandya. Special thanks to Chaitali Sariya and SAFAL for the contribution, as well as to our club members District Editor Mita, Chaitali, Hemangi, Rajni, Nimisha, Jankhana, Meghna, Neena and Smita for being a part of the inauguration ceremony.
23rd August 2017: Indradhanush 2017
Our annual flagship event, Indradhanush, an All India Art Competition Indradhanush, was held this year at The Don Bosco High School, Pleasant Park, Mira Road.
More than a 100 students in the age group 11 to 16, classes 6 to 10, painted their emotions on sheets at the Balanand Event, showcasing their outstanding creativity on the topic, 'My Best Scene' through hues of fiery red, electrifying blue, babilicious pink, earthy brown, sunkissed yellow, shimmery silver, dazzling gold and jet black.
IWCBB Club President Mrs Mohini Sharma Mane and our Club Secretary Mrs Tejal Damani distributed colour boxes and snacks to the students. Mrs Pooja Rally, Principal of The Don Bosco High School thanked the guests for giving their students a wonderful opportunity to display their creative talents.
Police Health Checkup Camp
We conducted a Gynac and general health check up, including a check for diabetes and blood pressure, was conducted for the Policemen and their families jointly with Rotary Club of Bombay Bayview. The policemen were extremely satisfied with this Camp and were grateful to our Club for organising it in their premises.
I thank our Inner Wheel member and Community Service Director - Medical Rtn. Samina Khorakiwala, Club Secretary Tejal Damani, Club Treasurer Jankhana Mehta, Executive Committe members Sheetal Vidhani, Ruchita Chedda and our Inner Wheel Members Mallika Sawla, Mamta Malji, Tanvi Parikh,Tina Jhaveri, Anchal Bansal, Sweety Reniwal, Kajri Bohra, Payal Seth, Ushma Jhaveri, Neena Agarwal, Karishma Jasra, Reepa Jasani, Chaitali Saraiya for being Present today.
14th September 2017: Good Touch, Bad Touch
On this morning we conducted our 2nd CC Project of Good Touch bad touch awareness at S.S Sahney High School at Khar (west). This wss an awareness session with the help of Sarita Shetty, and 120 students of the school were involved in this session with us.
The students not only learnt about the good touch and bad touch but also had great time and enjoyed every bit of learning. Following the session Frooti and chocolates were distributed which made a session a fun filled and a memorable one for every kid.
Swach Bharat
Inner Wheel Club of Bombay Bayview is also spreading words of "Mera Swach Vidyalaya" part of Our Prime Minister Modiji's Swachta Campaign, our District and Rotary India Literacy Mission" is also associated with this Campaign.
We have successfully reached 1000 students in 2 schools and created awareness through various Competitions like eassy writting, poster making, cleaning schools and conducting rallies.
19th September 2017: 3rd CC Project - Yoga @ Anandi school
On this afternoon, IWCBB took a small step towards teaching Yoga for a year to special privileged kids at Anandi School in Vile parle (E). For our 3rd C.C event, we taught special kids yoga, a project jointly undertaken with IWC Hanging Garden, IWC Bombay West, IWC Bombay Seacoast.
15 students were taught various Asanas like Janushirasan, Paschmuttanasana, Gomukhasana etc. along with basic breathing exercises. After the session we distributed strawberry milk shake & snacks and in return we got bright smiles and lots of love :)
29th September 2017: Diwali @ Sneh Sadan
On this afternoon we celebrated Diwali party with the girls of Sneh Sadan. Girls went to the market with sister Gracy and bought the clothes of their choice. The enjoyed the fast food and snacks pizza and cold drinks. Then we distributed crackers to all of them. The spark on their faces said it all. They were so happy and excited.
The girls were discussing so passionately about their dreams all they wanted someone to believe and motivate them. It was a great satisfying Diwali party for girls. Thanks Tejal Damani for this great idea, sponsorship and Rajani Barasia for attending the event.
14th November 2017: Children's Day Celebration
This Children's Day saw the culmination of months of flawless planning and effort by our super dedicated IW team & the CPAA team. This event was especially to show the kids suffering cancer and their parents that "someone cares for them too" the efforts and enthusiasm shown by parents, Smaash staff and volunteers of CPAA deserves a special mention.
64 Kids were just back from Wadia hospital after their Chemotherapy. Generally kids are very tired after such therapy but yesterday we could see the excitement in their eyes. They were waiting for this since morning. It was a sight to have those bright smiles on faces of kids, parents, IW team and CPAA team. We sensed the success of the project when the District Chairman Dr. Madhavi Pandya asked us if we can have this kind of celebration every year for these kids. And when Anita Peter Director of CPAA proposed us for a Christmas celebration for cancer kids from different hospital.
Special thanks to the team who worked really hard to make this a successful one: Tejal Damani, Meghna Sanghvi, Lotika Mehra, Kanan Mehta, Tejal Desai and Rashmi Jalan. Heartfelt thanks to members who graced the occasion: District Editor Mita Sheth, Rotary President Anand Mane, Club Secretary Tejal Damani, Club Correspondent Lotika Mehra, Club Vice President Prakruti Vardhan; Excom members Rashmi jalan, Meghna Sanghvi, Rajani Barasia, Kanan Mehta, Tejal Desai, Charu Shah, Sweety Reniwal, Aditi Ahuja, Chaitali Sariya, Tejal desai, Karishma Jhaveri, Ruchita Chedda.
HUGE HUGE THANKS TO OUR DONORS: SAMINA KHORAKIWALA, KRISHNA ENGINEER AND SANJU JHUNJHUNWALA for sponsoring treatment of 5 kids worth 300,000/- in total. Thank you Rajani Barasia for sponsoring the snacks for the kids and Mita Sheth for crayons gift.